Reached easily from the Fifth Avenue and 85th Street entrance to the park, Southeast Reservoir Bridge is one of three cast-iron spans over the bridle path in the vicinity of the Reservoir. It does not have the same appeal as either of the other two. This could well be because, while the supporting element is suitably curved, the platform above is flat. The bowed elegance of the others is wanting. Nor is there the quantity of ornament and openwork.
Resources
Pictures of Southeast Reservoir Bridge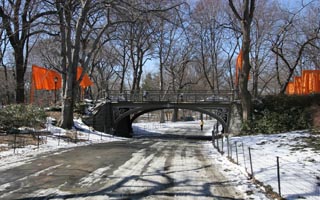 Southeast Reservoir Bridge and the Christo's Gates. 5 March 2005.